During our travels around the South West Coastal Path we (Karen and I) find ourselves passing some Points of Interest, including the Mount Batten Tower.  Either head up the stairs from the Mountbatten Breakwater (turn right as youre walking away from the pier and its the only place you can go – lots of steps!) or follow the South West Coastal Walk signs from Jennycliff Car Park.
We have always managed to walk past the Tower without taking too much notice, so we thought wed have a decent look this time.  There is a plaque explaining why it is there and whats is in it.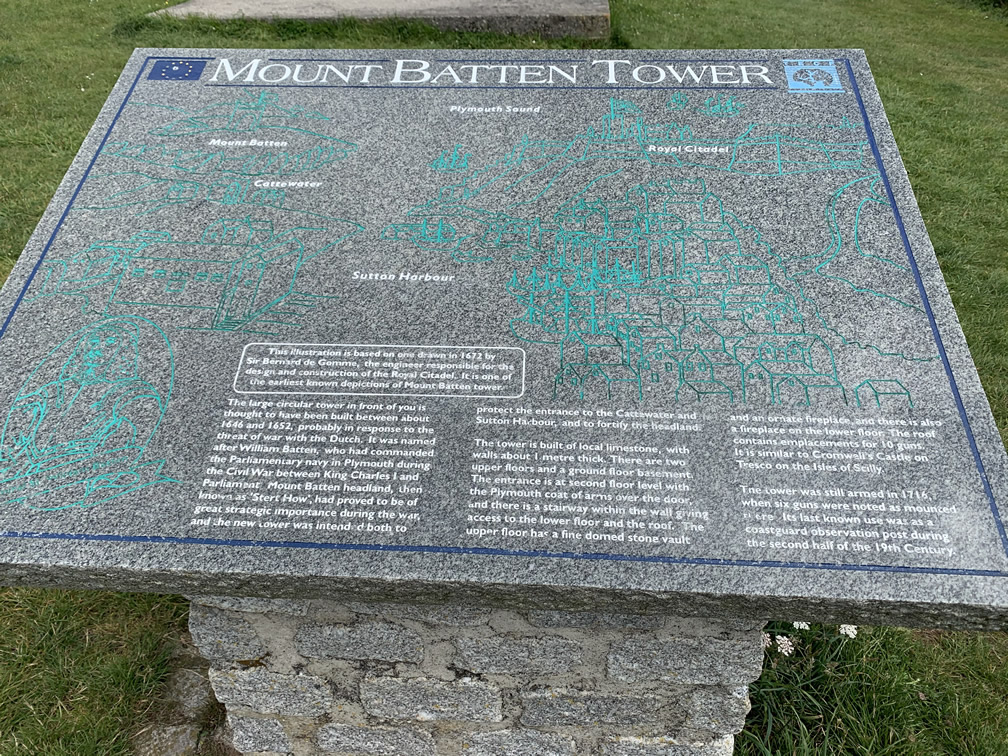 The text is as follows:
The circular tower in front of you is thought to have been built about 1646 and 1652, probably in response to the threat of war with the Dutch.  It was named after William Batten, who had commanded the Parliamentary navy in Plymouth during the Civil War between King Charles I and Parliament.  Mount Batten headland, then known as "Stert How" had proved to be of great strategic importance during the war, and the new tower was intended both to protect the entrance to the Cattewater and Sutton Harbour, and to fortify the headland.
The tower is built of local limestone, with walls about 1 metre thick.  There are two upper floors and a ground floor basement.  The entrance is at second floor level with the Plymouth coat of arms over the door, and there is a stairway within the wall giving access to the lower floor and the roof.  The upper floor has a fine domed stone vault and an ornate fireplace, and there is also a fireplace on the lower floor.  The roof contains emplacements for 10 guns.  It is similar to Cromwell's Castle on Tresco on the Isles of Scilly.
The Tower was still armed in 1716, when six guns were noted as mounted there.  Its last known use was as a coastguard observation post during the second half of the 19th Century.  (please let me know what the copyright is and ill do the credit).
The gate was locked up when we were there so we will have a look online to see if its opened at all, would be interesting to see the inside as described.  Anyway, here are some photos of the building…
And some of the view…
I have had a look online and can not find any references to Stert How but I will keep looking, there must be a reason its called that.  We will find some more information out about this site, it doesnt get mentioned in Holinsheds Chronicles or any histories I can find, but then it didnt get to fire at the dutch in the end.